Space for Advertising
Welcome to Concert Hall
Hear some wonderful events!
We are working on the Concert Hall for you ...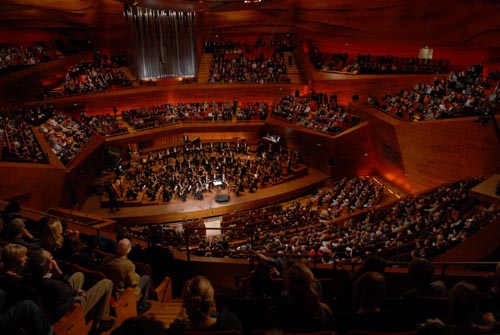 Composer
Work
Interpreter
Bruckner, Anton
Symphony No. 8 - Part 1.1 1.2
2.1 2.2 3.1 3.2 3.3 4.1 4.2 4.3
Karajan, Herbert von

Bach, Johann Sebastian
St John Passion - Herr unser Herrscher
Richter, Karl

Bach, Johann Sebastian
Goldberg Variations Part 1 2 3 4 5 6
Gould, Glenn

Prokofiev, Sergei
Violin Concerto No. 1 - 1 2 3
Hahn, Hilary

Messiaen, Olivier
Turangalila Symphony, Part 6/10
Chung, Myung-Whun

Pärt, Arvo
Spiegel im Spiegel
...

Prince
Nothing Compares 2 U
O'Connor, Sinéad

John, Elton
Cry to Heaven
John, Elton

Strauss, Richard
Elektra - Final Scene
Zschau, M. & Voigt, D.

Mercury, Freddie
We Are the Champions
Queen

Beethoven, Ludwig van
5th Symphony, Final Part 4 5
Fricsay, Ferenc

Mahler, Gustav
Symphony No. 9, 4th movement 1 2 3
Bernstein, Leonard

Schubert, Franz
Symphony No. 4, 4th movement 1 2
Harnoncourt, Nocolaus

Stravinsky, Igor
Firebird - Finale
Stravinsky, Igor

Gershwin, George
Porgy and Bess - Summertime
Joplin, Janis

Lee, Amy
Anywhere But Home live - Part 6
Evanescence

Rammstein
Live from Volkerball - Du Hast
Rammstein

Barber, Samuel
Adagio for Strings/Agnus Dei Choir Version
Marlow, Richard

Herron, Sinatra, Wolf
I'm a Fool to Want You
Holiday, Billie

Glen, Marla
Believer
Glen, Marla & Band

Wagner, Richard
Tristan und Isolde - Liebestod
Nilsson, B. - Böhm, K.

Strauss, Richard
Four Last Songs - Beim Schlafengehen
Schwarzkopf, E.

Dvorak, Antonin
Cello Concerto - Part 1 2 3 4 5 6
Rostropovich - Giulini

Harrison, George
My Sweet Lord
Harrison, George

Waughan Williams, Ralph
The Lark Ascending - Part 1 2
Hahn, Hilary

Bruckner, Anton
Symphony No. 7 - Part 4.1 4.2
Jansons, Mariss

Mozart, Wolfgang Amadeus
Piano Concerto No. 23 A Minor - Andante
Han, Derek
More will come soon ... much more :-)
And live concerts! ... See you ... welcome to participate ... :-)
lovetheuniverse.com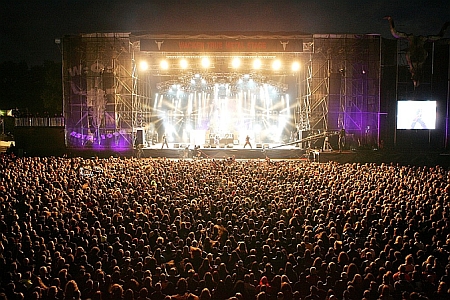 *********************************************************************************
Quests of the Concert Hall (Q CH)
Q CH 1 - Download Concert Hall
1. Download RealPlayer (if you haven't done so already :-)
2. Play and download all files of Concert Hall. They will be in the flv format. Convert them with the RealPlayer Converter into H.264 for Mac or PC.
3. Create a folder, name it "Love the Universe". Put all downloads in that folder.
4. If you don't have iTunes, download and install iTunes. Create a page in iTunes, name it "Love the Universe". Put all the files in the order of the list above (this webpage) into the iTunes page.
5. Adjust the volumes of your files, so that they all have the same loudness. Do it with love and feeling. take your time.
6. Press "loop all" and hear this page whenever you come to play lovetheuniverse.
7. If you like to hear single tracks press "loop one".
8. From time to time check Concert Hall and download all the new files. Put them into your iTunes. Have fun! ;-)
Q CH2 - My Concert Hall
1. You have to have finished Q CH 1.
2. Put all tracks in your iTunes page "Love the Universe" in the order you like best. Take some tracks out if you want, and fill the page with tracks of your own choice in the right place.
3. Write the order of your list to lovetheuniverse, using your ...@lovetheuniverse.com account. We will put it on your Member account.
4.From time to time check Concert Hall and download the new files, update your list and send it to us.
5. You may run iTunes pressing the "random" button. Have fun! ;-)
More quests coming soon ... take care <3
Spirit Temple
Concert Hall
Café
Park
Fruits
Diary Products
Cereals
Bakery
Flowers
System
Fun Gallery
Cinema
Theater
Tutorials